Rent a boat with skipper
Up to 14 people, 7 hours rental, fuel and captain-skipper included in the price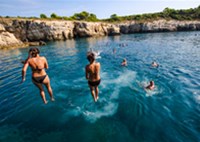 This type of trip is ideal if you want to create unforgettable memories with your family and friends.
A private trip with an experienced captain created just for you. Fish with children, dive and explore the underwater world, visit all the hidden coves and explore the beauties and sights of the Medulin archipelago. Visit the Golumbera Cave hidden in the cliffs of the Kamenjak Nature Park and explore its underwater world rich in flora and fauna, visit the largest lighthouse Porer and take attractive photos, visit the attractive sandy island of Levan and enjoy sipping cocktails.
Doesn't that sound wonderful? We hope you are ready to embark on new adventures with us.
Price: up to 14 people - 450 €