Brijuni islands-National park
Half day tour. Guide and entrance fees included.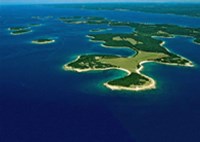 The Brijuni Archipelago consists of 14 islands and islets of unrivaled beauty, renowned for their preserved Mediterranean vegetation and archaeological sites. They were declared a National Park in 1983. We shall visit the island of Veli Brijun (Large Brijun), the largest island in the archipelago, which was tuned into an aristocratic summer resort for the European jet set of the time by an Austrian industrialist, P. Kuperweisser, at the end of the 19th century. A four hour sightseeing tour includes an hour's ride by a tourist train to the bay of Verige and its remains of a Roman rustic villa, a tour of a safari park with various exotic animals such as zebras, camels, Indian cattle, llamas, and elephants, live free in the open air. We continue our tour with a visit to the photo-exhibition "Tito on Brijuni", the Archaelogical Museum and the church of St Germain from the 15th century.
The price from 01.10. to 31.05. is 26,54 € (199,97 HRK) per person.
The price from 01.06. to 30.09. is 40 € (301,38 HRK) per person.

Discounts for children: Children up to 7 years are free of charge, children from 7 to 18 years pay 15 € (113,02 HRK).