How to pay
How to pay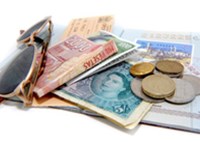 The guest can pay the full amount when book the accommodation or can pay in two parts.
When the payment for the rental of the selected accommodation unit is split in two parts, the first part is paid in advance when making a reservation of the accommodation unit and the rest can be paid before the arrival and at the latest on the arrival day of the guests at our agency office or to the house owner on the arrival day.
The advance payment amount is 20% of total arrangement price. In exceptional cases (such as short period reservation) it is necessary to pay more of 20% of the arrangement price immediately to confirm the reservation (minimum of the advance payment is 70 EUR).
The guest will be informed about the amounts of the advance and rest of the payment in the pre-invoice.
As part of the booking confirmation, the guest is obliged to make the booking payment within 24 hours of receiving the agency quote, and forward the payment confirmation to the agency with fax or e-mail (Saturdays, Sundays and state holidays do not apply.)
If the agency fails to receive the payment confirmation by the appointed deadline, the guest will be understood to have given up on the booking.
How to make payments:
1. In cash at our agency at the address: Brajdine 95, 52203 Medulin, Croatia
2. Payment made to the agency's account (IBAN)
In order to make a correct payment to the agency account, you will need the following data:
*Payer: full name of the reservation contractor including the address
*Receiver: "Moja kucica" tourist agency, Brajdine 95, 52203 Medulin
*Receiver's bank: Privredna banka Zagreb d.d., Radnička cesta 50, 10000 Zagreb, Croatia
*IBAN: HR7523400091111139699
*SWIFT: PBZGHR2X
*Date: the payment must be made within 24 hours upon sending the pre-invoice
3. Payment by credit cards
- Advance payment by credit card online ( Maestro, Mastercard/Eurocard, Visa Classic, Visa Electron) via PayPal on our website.
- Payment of remaining amount by credit cards (Maestro, Mastercard, Visa) in our agency on arrival.
The payment confirmation can be forwarded to us via fax (+ 385 52 576 919), or you can scan it and send it via e-mail to info@karavela.com
When the payment is settled to our account we will e-mail you the voucher or confirm of the reservation.
The voucher or the confirm of the reservation contains all information of the facility owner and the address of the reserved facility, as well as the remaining amount that has to be paid to the facility owner or in our agency by the guest on the day of arrival at the accommodation facility. After you pay the rest of the amount, the owner will give you the keys of the reserved accommodation unit.