Rent a boat
Rent a boat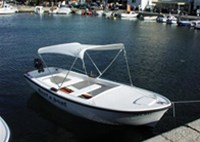 Every person with valid boat stearing permission can rent a boat.
Each boat has lifebelts and oars, and it is possible to get steering instructions from our staff and suggestions for attractive destinations.
Boats can be rented for one day at least, and there are discounts for several days rent.
We have boats 5 meters long, with engine Yamaha 5 HP, for 4-5 people, at a cost of 120 € per day (904,14 kn) (from 10:00 to 18:00) or half day (from 10:00 to 14:00 or from 14:30 to 18:30) at a price of 80 € (602,76 kn). Gasoline is included in the price.